Las Vegas may have the reputation of being an urban oasis in an endless, arid landscape, but there are plenty of great lakes near this fabulous city. Whether you and your family want an action-packed summer day full of motor boat fun or a peaceful day on a secluded lake, you won't be disappointed with the lakes close to (and even within) Vegas.
This gem of a city park is located only 15 minutes from the hustle and bustle of downtown Vegas. The park boasts a nice loop trail around the lake with plenty of wild waterfowl to keep you entertained. You will also find lawn, picnic and play areas, tennis, volleyball and basketball courts and plenty of parking. Fishing is permitted year-round, and the lake is annually stocked with catfish and rainbow trout. Other self-sustaining fish include bluegill and big-mouth bass.
Lake Las Vegas is a man-made lake in Henderson Nevada about 30 minutes from downtown. If a resort-style experience is what you're looking for, look no further. Shops, restaurants, and bars abound in this Mediterranean-style enclave. Several beaches provide access to the lake. You can rent kayaks, paddle boards or simple floaty mats. If you're feeling adventurous, you can try kitesurfing or even a fly board or jetpack.
Lake Mead is the largest reservoir in the United States and deserves its reputation as an unmatched summer fun destination. Everything from innertubes to houseboats can be rented from lakeside vendors. Jet skis, ski boats, row boats and kayaks can all share the water without conflict, even on busy days. There are many sweet swimming spots away from the boat traffic of the marinas. Beaches are a bit rocky, so bring chairs and mats for comfortable seating. Although there are no lifeguards, the National Park Service provides loaner lifejackets for no fee. Sport fishing and camping are also favorite pastimes at Lake Mead.
Several miles down the Colorado River from Lake Mead sits Lake Mohave. Near the city of Laughlin, Lake Mohave is about a two-hour drive from Vegas. Smaller than its up-river neighbor, Lake Mohave has the advantage of offering several large sandy beaches, with South Telephone Cove being the family favorite. Self-powered and motor craft are both welcome on the lake. The National Park Service allows primitive shoreline camping (mostly accessible by boat only) and offers several designated camping areas. Concessioners provide plenty of R.V. camping and indoor lodging as well.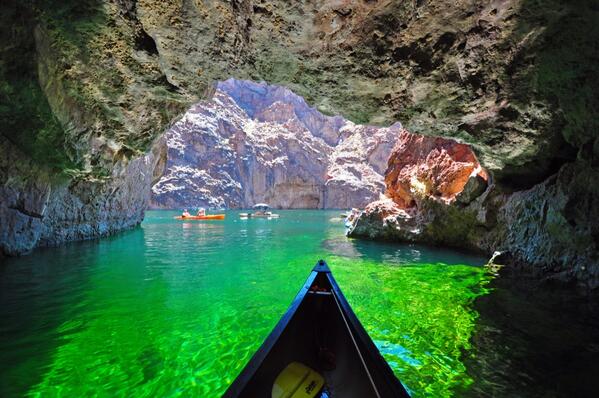 Cave Lake is a pristine reservoir in the Schell Creek Mountain Range. Off the beaten track, it is the perfect place for some true relaxation. The speed limit on the lake is a wake-free 5 mph so you won't see any jet skis or water-skiing boats. You will find great fishing and swimming, two very clean campgrounds and some gorgeous hiking trails. If you plan to visit in late June, be sure to check out the annual bathtub races. Winter activities include ice skating, ice fishing, and cross-country skiing. The Fire and Ice Festival, usually held in January, combines an impressive fireworks display with an ice sculpture competition.